Make payment

Once your payment's been verified, we'll process your phone unlock remotely. You can keep up-to-date with the phone unlocking process with our live tracking service.

Free your phone

Confirmation of your phone unlock or unlock code will be emailed within 24 hours. Job done, you can start searching for a better deal.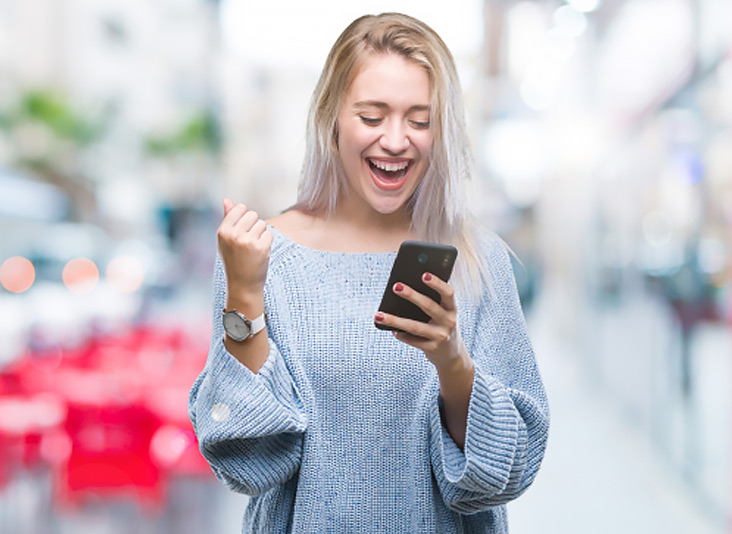 ---
Why unlock a Verizon phone?
You might have a Verizon prepaid cell phone but have spotted a better deal or cheaper price from competitors such as AT&T, Cricket, T-Mobile or MetroPCS. Maybe you're looking for a carrier with better local coverage. Or plan to travel internationally and use different wireless networks as you roam. There are plenty of reasons for unlocking Verizon phones. But the most obvious is: Because you can!
An unlocked Verizon phone opens doors. And with us, it's fast, easy, safe, permanent, legal and totally secure. So, why wouldn't you?
You're in Control
Decide how you use your cell phone. Not the other way around.
---
Find Freedom
Go SIM-only if you want. The choice is completely yours to make.
---
Go Global
Swap SIMs when you travel to avoid costly roaming charges.
---
Stay in Signal
Opt for the network that delivers the best signal in your area.
Make and Investment
Unlocked phones are worth more, which makes them a better investment.
Save Money
Find the best deals at the best prices across all networks , home and abroad. Read more about how to unlock a phone from carrier.

Safe and reliable Verizon phone unlock provider
A powerful process
Simple, straightforward and fast. With Mobile Unlocked the power is in the process.
There's no additional app to download. We don't need any of your Verizon account details or to contact Verizon customer support at all. There are no long forms to fill. Just provide some basic details (phone make, model and IMEI) and we'll do the rest. And there's no break in service because our tech works behind the scenes to process the unlock remotely. So you get to keep hold of your Verizon phone the whole time.
Within just a few hours, your Verizon phone will just be… a phone. Unlocked, with access to the best cell phone plans. And ready to use on any network or carrier in the United States or internationally.
The service you can trust
Our Verizon mobile unlocking service is used by thousands of customers worldwide. Providing a fast and professional service that delivers results is at the heart of our success.
One size fits all
Mobile tech comes in all shapes and sizes. And Mobile Unlocked covers them all. Our SIM unlock service works on Verizon prepaid phones and d that are still in contract.
It works on tablets and wearable tech too. Use us to unlock other Verizon phones such as: Verizon iPads, Apple watches and iPhones. As well as Verizon Samsung, Samsung Galaxy, Motorola, Nokia and Google phones, tablets and wearable devices.
Got more than one Verizon device? No problem. We can SIM unlock them all. For eligibility requirements (prices, comments, and terms of use) see our order page.
---
100% Remote
Stay where you are. We'll unlock your Verizon phone online.
---
Practical
Your phone's a lifeline. Continue using it throughout the process.
---
Safe
Keep hold of your device from start of the process to the finish.
---
Compliant
Our SIM unlock is completely legal. And doesn't affect your warranty.
Trackable
Stay up-to-date on the progress of your SIM unlock with our live tracking service.
Swift
Our unlocking process takes hours not days.
---
How do I unlock my Verizon phone?
SIM unlocking on your Verizon phone is simple. Have you got wifi or an internet connection? Do you have your device to-hand? Yes to both? Then you've got everything you need to unlock your Verizon phone.
First, locate your IMEI by going to the 'Settings > About screen' on your device. Or dial *#06#.
Next select the model of your device (for example, Huawei P20) and its network (Verizon). Click 'Checkout'. And that's it.
With all the relevant data in place, our tech will scan over 200 phone manufacturing databases worldwide to find the information it needs to perform your Verizon SIM unlock.
How long will it take?
That depends on your device. Most Verizon phones (Verizon Android devices, for example) are unlocked within 1 and 6 hours. Apple devices might take a few hours longer.
What happens next?
With Apple devices, your SIM unlock will take place automatically (or "over-the-air"), using WIFI/3G/4G. You don't need to type in a network unlock code. Just put your new SIM card into your iPhone, turn the device on, and it will automatically update and unlock there and then.
Keep in mind that similarly to Sprint Mobile, Verizon is a CDMA network (Code Division Multiple Access), so take some time to carefully check compatibility with other network providers like AT&T and T-Mobile.
With an Android phone, we'll send you a code to type into your phone. That done, just insert your new SIM card and you're all set.
A number of carriers including Sprint and Verizon operate on the CDMA network. It's important for you to check phone compatibility with other network carriers such as T-Mobile, Cricket and Metropcs.
How to access support
We designed our SIM card unlock service to be simple, straightforward and pretty much hands-free. All the hard work is done by our software, which works remotely behind the scenes. And the working of your phones won't be affected at all during the process. But your cell phone is important to you. We understand that. So if you want to chat things through, ask questions or just speak to someone before you commit, our customer service experts can help.