Make payment

Once your payment's been verified, we'll process your phone unlock remotely. You can keep up-to-date with the phone unlocking process with our live tracking service.

Free your phone

Confirmation of your phone unlock or network unlock code will be emailed within 24 hours. Job done, you can start searching for a better deal.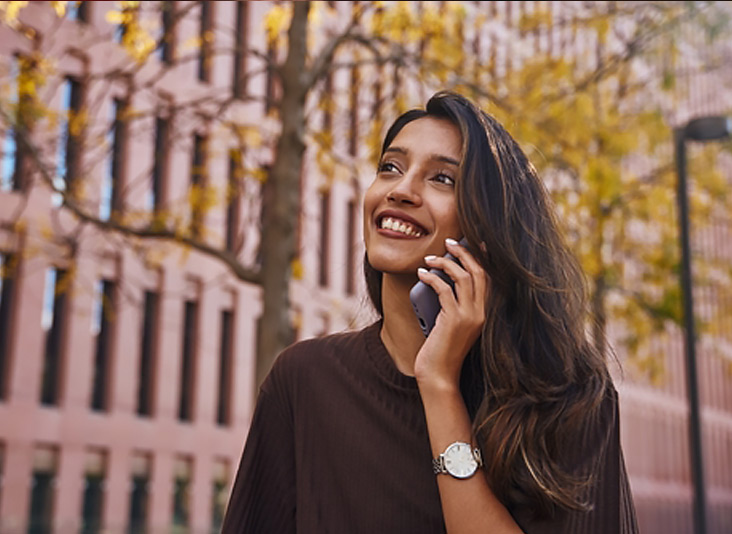 ---
Why should I get a Straight Talk phone unlock?
If your Straight Talk phone's locked to the Straight Talk service nofollow/new tab you can't take advantage of phone deals offered by other carriers. And that's not all. Thinking of selling your new Straight Talk phone in the future? The resale value is a lot less for unlocked phones. Planning on traveling abroad? You'll incur extra roaming charges if you can't swap over to use local SIM cards. Patchy coverage? If the signal's poor where you spend most of your time, you can't move over to a network with more reliable reception.
When you unlock phones, you unlock their potential. Break free from your Straight Talk service and you can take your pick of providers such as T-Mobile, Metropcs, Sprint and Verizon to Cricket, Cellphone, Xfinity and ATT.
Not only that but your phone instantly becomes cheaper to run, more flexible, more global, and, most importantly, more suited to you. Back in control, you can customize your phone to make it a better fit for your wallet, your social and professional life, and your location.
Take Control of your Locked Phone
Shift the balance of power from the Straight Talk network and back over to you.
---
Go SIM-Only
If contracts aren't right for you, don't get tied down. Make the most of dual SIM card functionality if you want to.
---
Keep Talking as your Travel
Switch to local networks when abroad to avoid roaming charges.
---
Make the right Match
Whether it's more data, more reliable coverage or more options, find the best fit plan for you.
Grow your Assets
Increase the investment in your new Straight Talk phone if you need to sell it on.

Unlock your Straight Talk service with Mobile Unlocked
Powerful, professional, personalized
Our Straight Talk SIM card unlock process is powered by fast-acting and far-reaching technology. Working behind-the-scenes it scans hundreds of phone manufacturing databases across the globe to source the network unlock code need to erase the lock Straight Talk has placed on your locked phone. And it does it at speed. Fast and focused, it unlocks Straight Talk phones in hours not days. There's no break in service either, because everything's done remotely. Thanks to our software, you don't have to risk putting your device in the mail, take time out to visit a Straight Talk store or talk to Straight Talk customer care.
Trusted Service
Your phone's more than a device. It's a link and a lifeline. And we take that responsibility seriously. Straight Talk customers come to us from all over the US because they trust us to unlock their Straight Talk phone with care and the highest levels of quality. But don't take our word for it. With customer service experts on-hand to answer any queries, provide more information or offer advice if you feel you need it.
Satisfaction Guaranteed
Our customers trust us with their phones because they know we take our responsibility seriously, treating each device unlock with care and commitment. But we know that a phone's more than just a device. It's a link to a wider world and without it your personal and professional life is put on hold.
No forms
If you've decided to unlock your Straight Talk phone, there's no point hanging around. Arranging your cell phone unlock yourself takes time. You'll have to meet specific requirements set down by the Straight Talk network. And provide additional account details to the Straight Talk customer care team before you submit your unlock request. There's also no guarantee how long your unlock request will take to process. Our conclusion? Straight Talk's requirements can all be avoided with the right software and the right support on your side.
Here's where we come in. We won't waste time asking questions that don't need answers. There are no forms. And no app to download.
More than cell phones
Mobile tech doesn't follow a one-size-fits-all approach. Far from it. From iPads, iPhones and Apple watches to Android tablets, cell phones and wearables, the market's packed with different devices that all work in different ways. Our tech unlocks them all. So whether you've got a Straight Talk iPad, an iPhone 11, a Huawei P20, a Samsung Note 10, or a Galaxy watch (or all of the above) we've got you covered. Prepaid or postpaid? Still in contract? We do that too.
---
All Online
Get your phone unlocked, fast with minimal fuss, with our 100% remote process.
---
No Service Breaks
Your Straight Talk phone keeps working so you can keep talking.
---
In Good Hands
Your phone stays with you throughout the whole process.
---
Fully Compliant
Mobile locking is totally legal in the US and constitutes one of your consumer rights.
Transparent Process
Keep up-to-speed with the progress of your SIM unlock with our live tracking service.
Same-day Service
Use your unlocked phone in hours not days.
---
Unlocking any Straight Talk phone
If you've got an iPhone or Apple device, you won't need a phone unlock code to unlock phones on the Straight Talk network. Just type your IMEI into your device and an "over-the-air", automatic unlock will take place as soon as you're connected to the internet or WIFI/3G/4G. Don't know your IMEI? Just type *#06# into your phone. Or find it in your 'Settings' menu. Insert your new SIM, turn it on and your mobile device will update automatically and unlock your network ready for you to use with another carrier.
If you've got an Android device we'll send an email with your network unlock code, after you've submitted your IMEI. Key this network unlock code into your cell phone, put your new SIM card in and start using your new network.