Make payment

Once your payment's been verified, we'll process your phone unlock remotely. You can keep up-to-date with the phone unlocking process with our live tracking service.

Free your phone

Confirmation of your phone unlock or unlock code will be emailed within 24 hours. Job done, you can start searching for a better deal.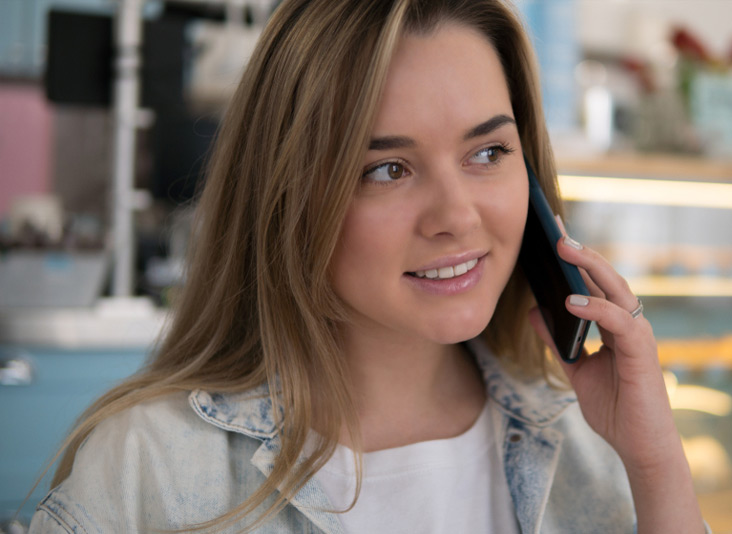 ---
Why do I need a Tracfone phone unlock?
Your Tracfone phone is full of potential. But if it's locked that potential is locked away too. Unlock codes are powerful because they transform your Tracfone device into a world full of opportunities. Want to shop around for better phone deals offered by other carriers? Check. Keen to cash in on the value of your Tracfone phone by selling it on? Check. Got a foreign trip planned and don't want to run up pricey roaming charges? Check. Struggling with patchy, intermittent coverage and want to switch to a cell phone service with more reliable reception? Check.
When you unlock phones, you can take your pick of providers rather than being continually reliant on one to meet all of your evolving needs. And compare Trafone's service with other US network providers such as T Mobile, Metropcs, Sprint, Verizon, Cricket, Cellphone, Xfinity and ATT. Learn more about how to unlock a phone from another carrier.
An unlocked Tracfone device can be used with any sim card (home or abroad), making it more affordable, more flexible, more travel-friendly and, most importantly, more you. With the power placed back in your hands, you can customize your mobile phone so it meets your own needs and not those of the network you started out with.
Take Control
Reclaim ownership.
You choose who you want your provider to be. Not the other way around.
---
Cut the Ties
Break free from lengthy contracts.
Prefer a SIM-only deal? Unlock your phone and find your freedom.
---
Save as you Travel
Make your mobile more... mobile.
Switch to local networks when going abroad and avoid costly roaming charges.
---
Boost your Signal
Move away from patchy or substandard coverage.
Choose the carrier that keeps you connected.
Maximize Value
Grow the resale value of your device.
Unlocked phones are worth more, which makes them a better investment.
Lower Costs
Shop around and save money.
Source lower prices and better value packages, by making the market work for you.

Reasons to get your Tracfone phone unlocked using Mobile Unlocked
Designed by experts, powered by process
Our software makes unlocking Tracfone devices simple. There's no app to download, all you need to do is share your Tracfone phone's IMEI and our tech will get to work straightaway. Operating behind-the-scenes, our software scans hundreds of phone manufacturing databases across the globe to pinpoint the unlock code needed to free your locked Tracfone device.
It also turns your Tracfone unlock around fast. Focused and on point, your unlocked Tracfone device will be ready to use with a new SIM card in just a few hours.
It's seamless too. Everything's done online, which means you can continue to use your Tracfone device throughout. No break in service. No time-consuming trips to your Tracfone store or calls to Tracfone's service provider team. And no process-blocking forms to fill or account details to find.
Within just a few hours, your Tracfone device will be unlocked. And able to sync up with any network or carrier in the United States or internationally.
A trusted Tracfone service
Whether it's for business or personal use, your phone's a link and a lifeline. We know that. And we take that responsibility seriously. Our customers come to us (and come back to us) because they trust us to provide a professional and personal service, every time. We care and are committed to the providing the highest levels of quality because it's what we believe in. We also have a team of dedicated, customer service experts on-hand to answer any queries, provide more information, or offer support if you need it.
Satisfaction guaranteed
Our customers trust us with their phones because they know we take our responsibility seriously, treating each device unlock with care and commitment. But we know that a phone's more than just a device. It's a link to a wider world and without it your personal and professional life is put on hold.
No admin
Once you've made the decision to unlock your phone, there's no point hanging around. Here's where we come in. We won't waste time asking questions that don't need answers. There are no forms to struggle with. There's no app to download. And no account details to provide. You don't even need to call your network provider to let them know. Moving to a new carrier's as simple as typing your IMEI into our webpage. One click and you're done.
Not just phones
From iPads, iPhones and Apple watches to Android tablets, cell phones and wearables, the cell phone market's packed with different devices. And we can SIM unlock them all, including prepaid and postpaid devices and phones that are still in contract.
---
Seamless
Breeze through the unlocking process without any break in service.
---
100% Remote
At home, in the office, on the road, if you need to move fast to bag a deal, we're on it.
---
Feel Confident
Your Cricket wireless phone stays by your side, from start to finish.
---
Stay Compliant
Our SIM unlock is completely legal. And doesn't affect your warranty.
Live Tracking
Get accurate updates on progress whenever you need them.
Fast and Focused
Secure a speedy, same-day service for most devices.