Make payment

Once your payment's been verified, we'll process your phone unlock remotely. You can keep up-to-date with the phone unlocking process with our live tracking service.

Free your phone

Confirmation of your phone unlock or unlock code will be emailed within 24 hours. Job done, you can start searching for a better deal.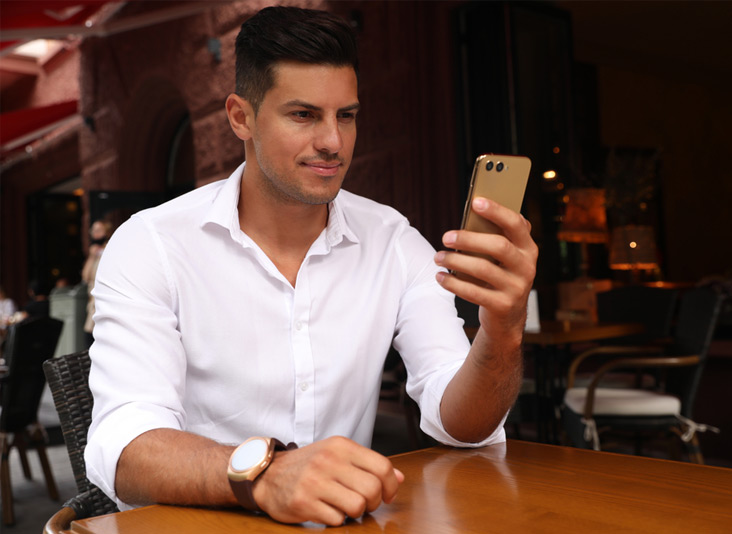 ---
Why unlock Simple Mobile phone
The mobile tech market's packed with providers competing to offer lower deals. But if you bought your new phone from Simple Mobile it's likely to be locked to the Simple Mobile network. This means you can't take advantage of new deals or better price plans competitors like Verizon, ATT, Cricket, and Sprint may be offering. Whether it's a cheaper rate, more reliable signal, or flexibility as you travel, if you unlock your phone you have freedom and choice back in your hands.
Take Control
Put the decision-making power back in your hands.
---
Break Away
Don't get tied into lengthy contracts. Change to a SIM-only deal if you want to.
---
Don't Pay to Roam
Connect to any carrier internationally by swapping to a local carrier's SIM card when traveling abroad.
---
Make the Right Choice
Craft your own customized phone package based on your data and phone usage.
Add Value
An unlocked phone is worth more. Grow your investment should you choose to sell it on.
Save Money
It's a buyer's market. Shop around for the best prices and packages.

How we can help unlock your Simple Mobile phone
Powerful software, straightforward service
The technology behind our unlocking service works intelligently and intuitively behind-the-scenes to locate the unlock code that will release your device from your Simple Mobile service provider. In just a few hours your Simple carrier Mobile Phone will be unlocked and compatible with all other SIM cards. Everything's done 100% remotely too. Which means you can keep using your phone throughout the whole process. Find out more on how to unlock any phone from its carrier network.
Specialized support
Our SIM unlock service is designed to be simple, straightforward and one hundred per cent hands-free. (In short, you don't need to worry about or do anything.) But we know that sometime's it's important to talk things through first. Which is why we've got a team of customer service experts ready to answer any queries and provide support anytime you feel you need it.
Satisfaction guaranteed
Our customers trust us with their phones because they know we take our responsibility seriously, treating each device unlock with care and commitment. But we know that a phone's more than just a device. It's a link to a wider world and without it your personal and professional life is put on hold.
No fuss
Your time is precious. We know that. So we won't waste it by asking questions that don't need answers. We won't send you long forms to fill in. Or ask you to take time out to download and install a standalone device unlock app. You can do everything on our website. And we'll just ask you for one piece of information, your IMEI. Which you can find in seconds using your phone. Simple.
We don't just unlock Simple Mobile iPhone devices
Mobile tech comes in many makes and models. From iPads, Apple watches and iPhones to Samsung, Samsung Galaxy, Motorola, Nokia and Google phones, tablets and wearable devices, we can unlock them all. And everything else in between.
Can we unlock devices that are prepaid, postpaid, still in contract? Can we unlock more than one device? The answer's 'yes' to them all.
---
Remote
A 100% "hands-free" online unlocking service.
---
Seamless Transition
Breeze through the unlocking process without experiencing any annoying break in service.
---
Legal and Compliant
One of your consumer rights, unlocking phones is lawful and won't affect your warranty.
---
Transparent Process
Monitor the progress of your phone unlocking with our live tracking service.
Same Day Service
No form filling or accounting admin means you can start searching for better deals in hours.
---
How to unlock Simple Mobile phones
The key to your Simple Mobile carrier unlock is a your device's 15-digit IMEI number. You can find this easily by typing *#06# into your mobile phone keypad. Or by navigating to the 'About' option in your phone's 'Settings' menu.
Just type this in and you're good to go. Our software starts working straightaway. Scanning over 200 manufacturing databases worldwide, our tech sources the unlock code needed to unlock your Simple Mobile phone.
The physical unlock process is different for IOS devices and Android devices. Check Simple Mobile terms and conditions.
Your iPhone or Apple device unlock
To select unlock a Simple Mobile iPhone or any other Apple device with Mobile Unlocked you won't need to type in an unlock code. Instead, everything takes place automatically, over-the-air. Make sure you're connected to WIFI/3G/4G or a mobile hotspot. Turn on your device with the new SIM card in and it will update and apply your unlock codes automatically.
Your Android device unlock
If your Simple Mobile cell is an Android device, we'll email you a code. Just type it into your phone, remove the old SIM card and insert a new one. Simple