Make payment

Once your payment's been verified, we'll process your phone unlock remotely. You can keep up-to-date with the phone unlocking process with our live tracking service.

Free your phone

Confirmation of your phone unlock or unlock code will be emailed within 24 hours. Job done, you can start searching for a better deal.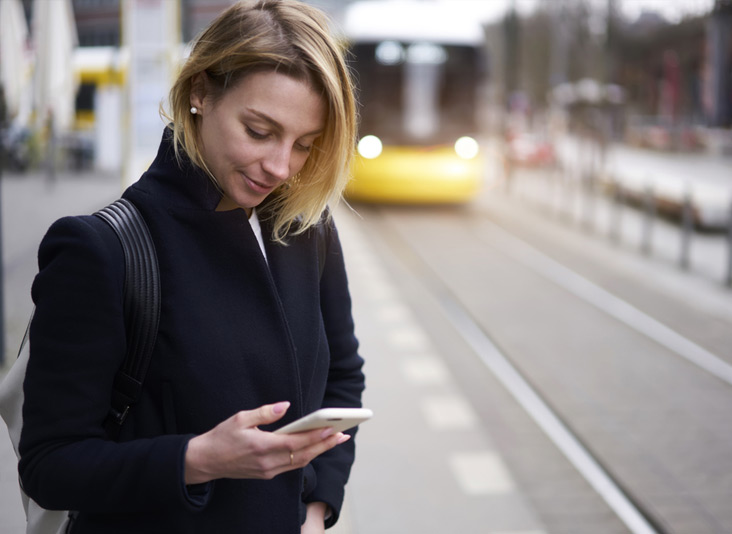 ---
Why should I SIM unlock a Metro phone?
If your phone's locked to the Metro, Metropcs or the Metro by T Mobile network you won't be able to cash in on the thousands of deals offered by other carriers. The resale value of your device is less. Traveling abroad means hefty roaming charges. And, if your signal's poor, you're pretty much stuck with it. When you unlock phones, you also unlock their potential. Your Metropcs or Metro by T Mobile phone instantly becomes cheaper, more versatile, more global, and, most importantly, more suited to you. With power back in your hands, you can customize your phone use to suit your wallet, your lifestyle and your location.
You Decide
Take charge of your device.
With your network ties severed, the power of your phone is yours to control.
---
Cut the Chains
Don't get fixed into lengthy contracts.
Go SIM-only or make the most of dual-SIM functionality by unlocking your Metropcs device.
---
Break Down Boundaries
Make your phone an international asset.
If you're traveling abroad, switch carriers as you move around and avoid roaming charges.
---
Put 'you' First
Meet the right match.
Whether it's more data, more reliable coverage or more options, don't settle for second best.
Remember Resale
Increase your investment.
Your phone's an asset. Get more for your Metropcs device if you decide to cash it in.
Lower Costs
Shop around and save money.
Source lower prices and better value packages, by making the market work for you. Learn more about the carrier unlock locked phone process.

Why use Mobile Unlocked to unlock your Metro PCS phone
Powerful software, personalized support
The technology that drives ourMetropcs unlock service works silently and smoothly behind-the-scenes to source the unlock code that activates your Metropcs phone unlock. Fast and focused, it unlocks metropcs phones in just a few hours. And because everything happens online, you won't have to suffer any frustrating break in service. Or worry about handing your phone over in a store or putting it in the mail.
Thanks to our intuitive, powerful software our SIM unlock service delivers a simple, straightforward, 100% remote, and completely painless customer experience. In short, you don't need to worry or do anything. But, if you have a few questions and want to chat them through beforehand, our customer service experts are available to answer any queries. Or just provide a bit more information or advice if you feel you need it.
Service guaranteed
Our customers come to us from all over the globe because they trust us with their phones. We take that responsibility seriously, and treat each phone unlock with care and commitment, providing a fast, professional and successful service every time. But we know that a phone's more than just a device. It's a lifeline.
No forms
Time's precious. And if you want to switch carrier, sometimes you'll need to move fast. So we won't waste your valuable time asking questions that don't need answers. The opposite, in fact. We won't ask any questions at. Or send you long forms to fill. You don't need to download a Metropcs device unlock app. Or contact Metropcs customer service. You can easily unlock your Metropcs device with just one piece of information. Your IMEI.
Our unlock process is as simple as sharing your phone's IMEI. We don't need anything else. Your Metro pcs phone will be unlocked the same day using an unlock code or an over-the-air automatic process.
Phones and more
Mobile tech comes in lots of different forms. Tablets and wearables are now just as common as cell phones. The good news is, we can unlock them all. Our service covers everything from Metropcs iPads, Apple watches and iPhones on the Metro by T mobile network to Metro pcs Samsung, Samsung Galaxy, Motorola, Nokia and Google phones, tablets and wearable devices. And anything else in between. Prepaid or postpaid? Still in contract? Our SIM unlock process caters for both. More than one device? No problem. We can unlock them all.
---
Remote-First
A 100% online and digital, "hands-free" unlocking service.
---
Don't Stop Talking
Your Metro phone keeps working, while our tech works on your unlocking. No break in service.
---
No Disappearing Act
Keep your phone where it's safe, by your side, throughout the whole process.
---
Legally Backed
Government-approved and 100% lawful, mobile unlocking is a consumer right.
Keep in the Know
Monitor the progress of your SIM unlock with our live tracking service.
Hours not Days
Secure a speedy, same-day service for most devices.
---
How to unlock Metro phone
Hooked up to the internet or wifi? Got your device to-hand? Good. That means you're ready to unlock your Metro wireless phone. Here's all you need to do to activate your Metropcs phone unlock.
Locate your phone's 15-digit IMEI number by inputting *#06# into your phone. Or by going through your 'Settings' menu.
Found it? Good. Now type it into this page in the box above. And click 'Checkout'.
And you're done!
As soon as you checkout, our software starts scanning over 200 phone manufacturing databases globally to source the data and unlock code needed to remove the lock from your Metropcs cell phone.
How long will it take? Most Android phones can be unlocked within 1 to 6 hours. The phone unlock process for Apple devices can take a little longer to complete. Check the compatibility of your device here.
Got an iPhone or Apple device? In that case, you won't need an unlock code. Instead, an automatic (or "over-the-air") unlock will take place as soon as you're hooked up to the internet or WIFI/3G/4G. Once the over-the-air process is complete, put your new SIM into your cell phone and turn it back on. Your device will update automatically and unlock ready for you to use.
Got an Android device? Check your email for an unlock code we'll send you. Key this into your cell phone, put your new SIM card in and you're all set to switch network.