Make payment

Once your payment's been verified, we'll process your phone unlock remotely. You can keep up-to-date with the phone unlocking process with our live tracking service.

Free your phone

Confirmation of your phone unlock or unlock code will be emailed within 24 hours. Job done, you can start searching for a better deal.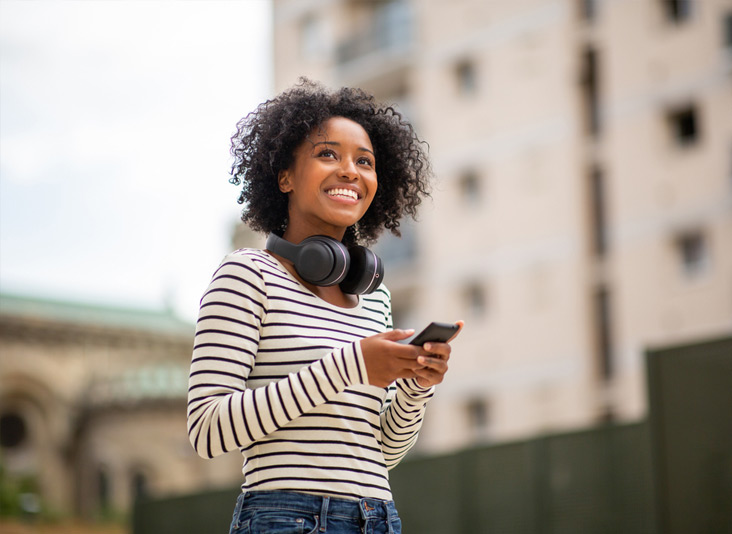 ---
The power behind your nTelos unlock code
Most phones are sold directly from a carrier with a lock in place. This lock is a software code which stops your phone from being able to connect up with another network. And if you try to insert a new SIM card from another provider the phone simply won't work.
What does that mean for you? In short it means that, while the mobile marketplace is packed full of great deals and rich in diversity, if your phone is locked to nTelos all of that choice will be out of your reach.
This can be particularly frustrating if you're paying a high price for your mobile package.If you're locked to a network with poor or patchy coverage in your area. Or if you travel a lot, incurring additional roaming charges every time you go abroad.
The good news is, there is an alternative. Our nTelos unlocking service can locate the unlock code needed to release your Apple or Android device from the nTelos network. In just a few hours, you'll have access to the whole mobile market, from Verizon, AT&T, Cricket and Sprint to Verizon, T-Mobile, Tracfone and Cellcom. Plus everything else in between. And be able to benefit from cheaper rates, a stronger signal, and flexibility as you move around.
Control
Take power away from your network and put it back in your hands.
---
Choose Freedom
Go SIM-only and move away from contracts that tie you in.
---
Go Further
Travel around without having to pay expensive roaming charges.
---
Meet your Match
Don't compromise. Create and customize a mobile plan that works for you.
Max your Investment
An unlocked nTelos iPhone is worth more if you decide to sell it on.
Save Money
Shop around and take your picks of the cheapest deals on the market.

How we can help unlock your mobile phone with nTelos
Simple service, sophisticated software
To find the unlock code needed to free your iPhone or Android device from the nTelos network, all we need is the IMEI number of your phone. That's it. There are no forms to fill or questions to answer. Our powerful tech takes care of it all. And everything takes place remotely so you can keep using your phone throughout. And because it's all online, there's no app to download and install.
All devices and service types covered
We unlock tablets and wearables as well as phones. And devices that are prepaid, postpaid or still in contract. Got more than one device? We can unlock them all.
---
Hands-Free
No app to download. Our service is all completed online, from start to finish.
---
No Break in Service
Your mobile keeps working throughout.
---
Safe and Secure
No need to put your device in the mail or take it into a store.
---
Legal
Unlocking your phone is a consumer right and won't impact your phone's warranty.
Transparent
Use our live tracking page to check the status of your unlock.
Same-Day Turnaround
Zero admin plus smart software equals a speedy service.
---
How to unlock phones locked to your nTelos service provider
To permanently unlock your nTelos phone just enter your 15-digit IMEI number into our website. You can find your IMEI by typing *#06# into your phone's keypad. Or by going to the 'About' option in your device's 'Settings' menu.
Using your IMEI our software will sync up with 200 manufacturing databases worldwide to to activate our carrier unlock sim card only dofollow link in guide service.
Your iPhone or Apple device unlock
To activate iPhone unlocks, or another iOS Apple device, you don't need an unlock code. Just connect your device to WIFI/3G/4G or a mobile hotspot, insert your new SIM card and switch your device on and our tech will update and apply your unlock codes automatically.
Your Android device unlock
If you've got an Android smartphone or other device we'll send you an unlock code by email. Type this into your mobile, remove the old SIM card and insert your new one.